Sustainability as one of ProCon's core elements
Sustainability is a complex concept, and we do not 100% know the road to creating a global sustainable society as the choices we make in our lives and business have undefined implications and consequences for the world we live in now but also in the future.
At ProCon, we want to ensure the foundation for future generations' possibility to meet their needs in balance with the resources and planet. We want to pass the world on to the next generation in a better condition than we received it. Consequently, we have decided to work strategically, pragmatically, and actively with the UN's 17 Sustainable Development Goals, and become an inspirator and advocate for a more sustainable future.
However, we see sustainability actions, solutions and focus not only as necessities to ensure a better future for the world but also as prerequisites for our company's future success. This is based on the increased industry requirement in terms of being able to document one's company's sustainability similar to what is the case with health and safety. If you are not able to document a satisfactory level of sustainability, you will be excluded for future projects.
Consequently, we have placed sustainability in the very center of our company, and under our slogan 'Electrifying Renewable Energy' and with our solutions, we will ensure the continuous global expansion of renewable energy – creating better conditions for both people and planet.
This is integrated, supported, promoted and lead by our entire organization – from top management to our technicians at all ProCon locations around the world.
We have the possibility and ambition to affect large parts of the value chain, but it is no easy task. There are several interested parties, various circumstances, and requirements that we need to adhere to. Together, we can do so much more. We are therefore proud to be one of the first movers and role models leading the renewable industry down the sustainable path – underscored by our UN Sustainable Development Goals certification.
ProCon Wind Energy's SDG Certificate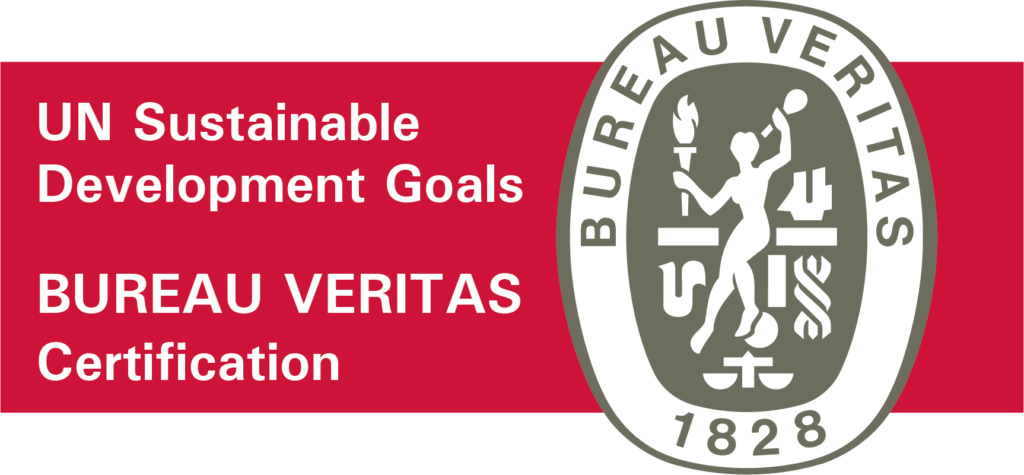 Want to know more about our sustainable work and initiatives?

SUSTAINABle Development Goals
The 17 sustainable development goals have been defined by the United Nations for countries, organizations, and people to follow in order to make the world more sustainable by 2030 and onwards. The goals and their 169 targets are not only about bringing down the carbon emission and CO2 but also about how we become free from poverty, hunger and global equality on many different levels, ensure quality education, health and well-being, decent jobs, responsible consumption and production, and more.
ProCon was certified for its work with the sustainable development goals by Bureau Veritas in  june 2021 as the first SMV in the renewable industry. Apart from being able to document our contribution to a more sustainable world, our certification means that we have made certain commitments regarding business and solutions.   Some of these commitments are intertwined with our ISO standards, our QHSE policy, and DNA, which is why working with sustainability is natural for us. 
As a result, we have decided to work with all of the sustainable development goals by evaluating each of the 169 targets and measuring our influence and impact in relation to these. Thereby, we create a more holistic overview and approach regarding our sustainable work, and this has been the basis of our sustainability plan which consist of a list of improvements and initiatives to be implemented and communicated about over the next three years.
To oversee, facilitate and continue our sustainable work, we have a dedicated QHSE & Sustainability employee and a task force, which also are responsible for inspiring others through transparency and communication of our processes, progress, initiatives, plans, etc. 
Examples of initiatives which we are working on and have great success with are e.g.,
CO2 measurement and reduction
At ProCon, we are constantly trying to reduce our carbon footprint and CO2 emissions throughout our company. We measure and document our CO2 emission yearly, where we can see the benefits of our focus on minimizing our travels with 50%, and CO2 compensating when do travel; exchanging our fleet of cars to more environmentally friendly cars; choosing appropriate offices, utilities and expenses; and choosing and providing as sustainable solutions, components and consumables as possible while being aligned with requirements.
Supply and value chain cooperation
As a part of providing as sustainable solutions as possible according to our customers, we have a close cooperation with our suppliers, sub-suppliers and partners to ensure that everything lives up to our as well as our customers' pre-set values and requirements regarding health, safety, environment, quality and sustainability. This is a part of an on-going evaluation and dialogue with our supply and value chain, where our interested party analysis is updated at least once per year.
ProCon has established an innovation group to increase the focus on sustainable design and products as well as develop new initiatives and concepts. This group ensures that sustainability is considered in every optimization process, health and safety initiative, solution, etc., and thereby contributing to the on-going sustainable development in our company and industry.
Local setups with Danish standards
ProCon is a specialist in setting up companies, offices, sites and organizations around the world because it is in our DNA to go where our customers go and deliver what they require.
With each of these establishments, we ensure that our Code of Conduct, DNA and business approaches are implemented. Our Danish standards and expectations are therefore integrated worldwide and ensure that we say no to matters such as bribery, corruption, child labor, prostitution, and yes to e.g. healthy and safe working conditions, fair salary, and good living conditions.
Well-being and education of employees
The safety, well-being, motivation, know-how and education of our employees is paramount for our business. Therefore, we invest heavily in training and courses through our own ProCon Academy or through our partners. We also offer benefits like health care package, fair salary, flexible working hours, involvement, social get-to-togethers. 
This ensures decent jobs and a skilled workforce, which have a positive ripple effect from our company to the rest of the industry and to the countries we are present in where we help spread information about quality solutions and appropriate behavior and working conditions.
At ProCon, we encourage to speak up about every kind of suggestions or suspicions of inappropriate and illegal conducts. The purpose of the Whistleblower Hotline is to make it easier for our employees, stakeholders and other interested parties of ProCon to detect errors and negligence, protect individuals who filled in the scheme, and speak out about illegal or criticisable situations.
Also read about Wind turbine technician jobs here.